Here you will find a collection of articles, tips, expert advice and resources designed to help adults keep up to date with what their children are doing online.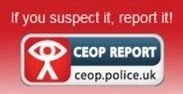 We believe it is vital to show, even our youngest children, how to stay safe online so therefore we incorporate resources devised by the 'Think u Know' education programme within our teaching.

The ThinkUknow education programme is a resource developed by CEOP (Child Exploitation and Online Protection Centre) to help children learn about the risks they may encounter whist using the internet and other interactive technology devices. It focusses on a number of themes to deliver three key messages:
• How to have fun online
• How to stay safe and in control online
• How to report a problem

Children and young people will be taught how to:
• Recognise and manage potential risks associated with their online activities
• Behave responsibly online
• Judge what kind of online relationships are acceptable and unacceptable
• How to stay in control and report a problem.